Whether you like your spooky contained to one season or if you prefer to be thrilled and chilled all year round, there's something for everyone in our guide to horror collectibles. Trick or treat yo'self!
Based on Bela Lugosi's iconic role as Dracula, the Classic Dracula Bust by Black Heart Enterprises captures his hypnotic stare and elegant attire. Subtle detailing and a frighteningly realistic likeness make this piece a must-have for vampire enthusiasts, familiars, and children of the night.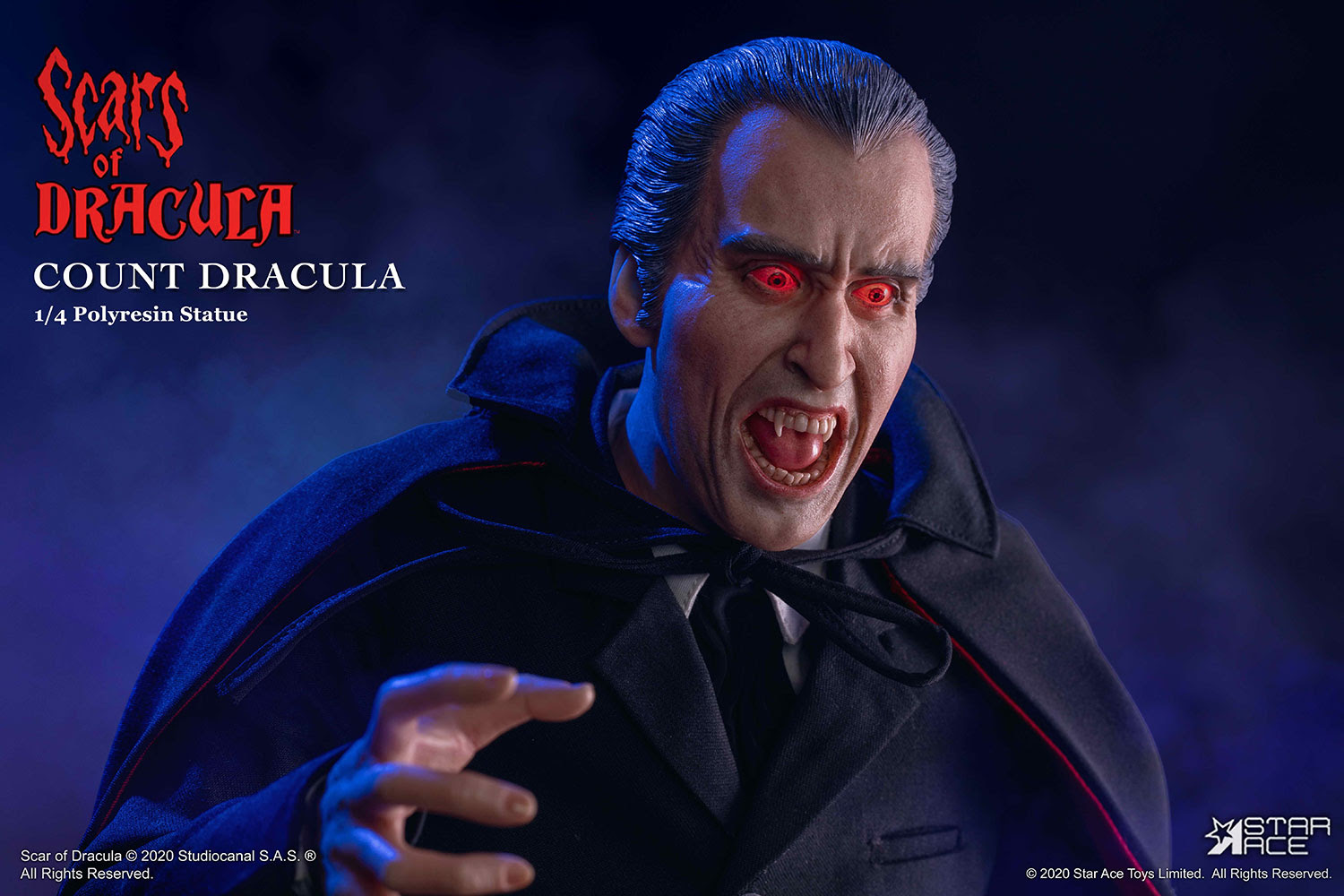 The Count Dracula 2.0 (DX With Light) Statue by Star Ace Toys depicts Christopher Lee reprising his role as the Prince of Darkness in the 1970 film Scars of Dracula. This beautifully sculpted piece includes a fabric cape as well as light-up eyes and base features for added drama.
The Creature from the Black Lagoon swims off the screen and on to your shelf with this poseable 1/6 scale figure from Mondo. Painted in a monochromatic palette to mimic his silver screen debut, this is a wonderful piece for classic monster movie lovers and cinephiles alike.
Embrace pumpkin spice season with the Pumpkinhead Statue by Premium Collectibles Studio. Stan Winston's famous creature design is recreated in exceptional detail, from its terrifying face down to the talons on its feet. Standing atop a highly detailed base which recreates the iconic graveyard scene from the Pumpkinhead film, this statue makes a terrifying addition to your collection.
Get ready to haunt some nightmares with the Freddy Krueger Deluxe Glove by Trick or Treat Studios. Made by renowned independent replica glove maker, Anders Eriksen, this high-quality prop replica features stainless steel blades and a real leather glove, just like the one worn by Freddy Krueger in the popular A Nightmare on Elm Street franchise.
The beautifully sculpted Flyboy Foam Filled Prop Head is based on the iconic Flyboy zombie from George A. Romero's classic film, Dawn of the Dead. Instantly recognizable to horror fans everywhere, this prop is perfect to head up your collection.
Back to terrorize the Losers Club, and moviegoers everywhere, the Pennywise 1/6 Scale Figure from Hot Toys masterfully captures Bill Skarsgård's portrayal of Pennywise in IT Chapter Two. Wearing an impressive tailored costume, the figure comes with an array of accessories, including a jack-in-the-box, a severed arm and, of course, the infamous red balloon.
Creepy meets cute with The Nun Silver Coin. Inspired by the 2018 American gothic supernatural horror film, The Nun, New Zealand Mint's Chibi® Coin is 1 oz pure silver and is legal tender.
Celebrate the work of a horror master with the John Carpenter Editions Series Fine Art Lithograph Print Set by Matt Ferguson! This open edition set of four lithograph prints showcases the John Carpenter classic films: They Live, Prince of Darkness, The Fog and Escape From New York.
This guy is all about Halloween! The Michael Myers (Slasher Edition) Statue from Premium Collectibles Studio is ready to come home with you. Tailored fabric coveralls, sculpted mask, and synthetic hair add a degree of frightening realism to this detailed figure. Four different sculpted window reliefs depict essential scenes from Michael Myers' murderous history around the base, making a stunning display.
Add some terror to your tiki time with a range of horror icon tiki mugs including Pinhead, Jason Voorhees, Leatherface, Ghostface, Regan, Elvira, Ash, and more!
---