October 21 is Back to the Future Day, which commemorates the date that Marty McFly originally traveled back to the past and gives sci-fi fans a chance to celebrate the much-loved franchise.
From 1885 to 2015, Sideshow.com has you covered across every decade of BTTF replicas, statues, and more. You can relive every beloved moment of this celebrated saga alongside Doc Brown, Marty McFly, and even Einstein the dog!
Below, we've curated a guide to some must-have Back to the Future merch for fans of the iconic film series. But you have to be quick — there's no time machine to get these collectibles back once they sell out!
It takes a lot of energy to run your technology, whether you're browsing on your cell phone or firing up a kitted out DeLorean. Thankfully, your mobile device (probably) doesn't run on plutonium. But since we're not yet in a future where banana peels can power up your electronics, why not bring home a stylish wireless charger?
The Back to the Future Power Idolz by Numskull perfectly blends retro packaging aesthetic (VHS case, anyone?) and futuristic tech as a wireless charging dock for your cell phone. Now that's radical.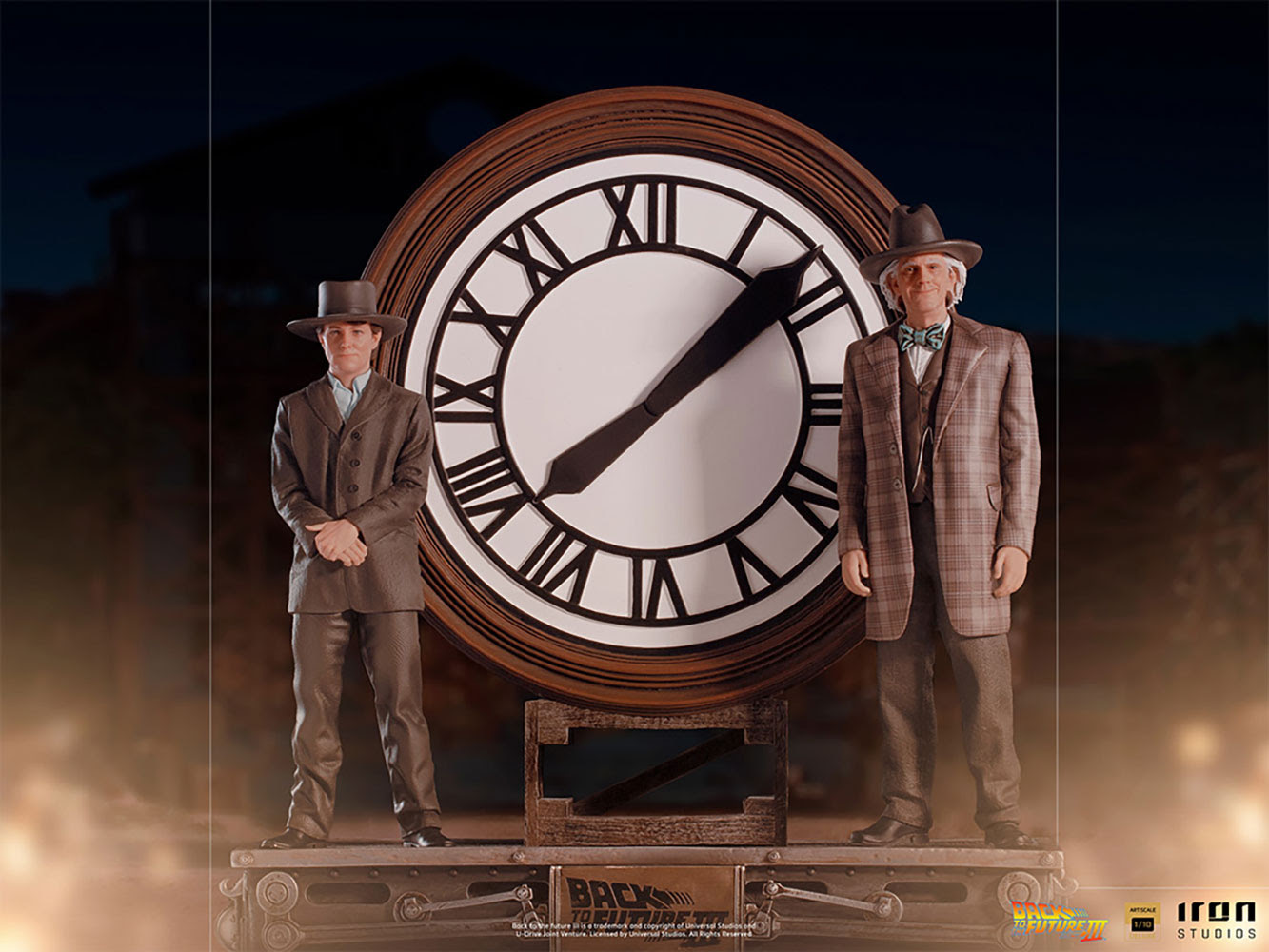 Faster than old photography, capture the magic of the trilogy-capping film with the Marty & Doc at the Clock Deluxe Statue by Iron Studios. With a base that evokes the steam locomotive transport, a fully detailed clock sculpture, and two detailed 1/10 scale representations of Doc Brown and Marty McFly, this statue makes a timeless addition to your shelf.
Hey, McFly! Heads up — the CosBaby Griff Tannen Figure by Hot Toys perfectly captures Griff's shiny and spiked signature outfit and angered expression as he races after Marty McFly in the Hill Valley city square. His telescoping red bat is aimed and ready to swing as he tears up the town in the tradition of his family before him. Just keep this collectible away from any oncoming manure trucks.
Take your walls from 0 to 88 mph with the Back to the Future – DeLorean Fine Art Lithograph Print Set by artist Rodrigo Barraza. A beautiful set of three unframed lithographic prints, showcasing a different DeLorean from each chapter of Back to the Future, this collection looks great in any time period.
Einstein is a good boy — he can sit, stay, roll over, and go back in time! This adorable Einstein vinyl figure by 3D Retro and artist Reina Koyano takes the sheepdog to the future in a suit inspired by the famous Nike Air Mag shoe from the films.
With a playful puppy-dog pout on his face and a colorful outfit inspired by the far-out styles of 2015, this Back to the Future collectible makes a unique addition to any fan's collection. He's limited to an edition size of only 500 ever produced, so you'll want to fetch this one before he disappears on Doc's next experimental excursion!
Back to the test drive that started the whole time traveling adventure, Hot Toys presents the Marty McFly and Doc Brown CosRider Figure. Part of a trio of figures capturing the car and character styles from each film, this darling display has a rocking mechanism, coin-operated function, LED light-up feature, and even original film score music.
Where we're going we don't need roads! This impressive movie-accurate DeLorean Time Machine 1/6 Scale Figure Accessory includes multiple LED light-up features, signature gull-wing doors, foldable wheels for flight hover mode, and a detailed recreation of the time machine cabin controls and flux capacitor. Perfectly sized for Hot Toys' Doc Brown and Marty McFly 1/6 Scale Figures (sold separately), it also comes with a specially designed base for a hover mode display. Don't run OUTATIME, pre-order this stunning piece today.
---