After witnessing the tragic murder of his parents, billionaire Bruce Wayne decides to dedicate his life to fighting crime in Gotham City. As the masked hero Batman, he strikes fear into the hearts of the city's criminals — but he soon meets his match when The Joker emerges to challenge him.
BATMAN
Inspired by Tim Burton's 1989 blockbuster film Batman, the Batman (1989) 1/6 Scale Figure by Hot Toys is a must-have for both movie and DC Comics fans.
The Batman (1989) 1/6 Scale Figure has a detailed, hand-painted headsculpt featuring a stunning likeness of Michael Keaton in the titular role. It comes with three interchangeable faceplates for a range of realistic expressions, as well as integrating Hot Toys' innovative rolling eyeball function — allowing collectors to adjust the figure's gaze for a greater degree of realism and posing potential.
The Batman (1989) 1/6 Scale Figure is dressed in a finely tailored Batsuit with the iconic Batman logo on the chest, a utility belt, and a cape. Batman's accessories include a speargun / grapple, a grapple gun gauntlet with line launcher, a Batarang with rope, two ninja wheels, three smoke capsules, a Batmobile remote, a detonator, and more!
And that's not all! Hot Toys also unveiled a special Batman (1989) Deluxe 1/6 Scale Figure (sold separately) that comes with all of the accessories seen above, as well as a specially designed Gotham Cathedral rooftop diorama, allowing fans to recreate the dramatic final fight scene!
Where does he get those wonderful toys?
The Batman (1989) 1/6 Scale Figure and the special Deluxe Edition by Hot Toys are available to pre-order from Sideshow.
BATMOBILE
The Batmobile, Batman's custom mode of transport, is more than just a car. Faster and more powerful than any other vehicle on Gotham's streets, it also houses a vast arsenal of weapons and gadgets, and can be summoned remotely.
Inspired by the iconic Batmobile in Tim Burton's Batman (1989), this new 1/6 Scale Collectible by Hot Toys is a true movie masterpiece, with expertly applied slick black paint and screen-accurate intricate details. Perfectly scaled to pair with the Batman (1989) 1/6 Scale Figure, it features light-up headlights, taillights, jet engine, and dashboard panel.
The Batmobile also has sliding canopy doors, rotating and adjustable wheels, side chassis-mounted "shin-breakers," articulated machine guns, and Batdisc launchers. The fuel tank door can also be opened to reveal interior details. Accessories include Batdiscs, grappling hooks, and a specially designed rotating base.
Take to the streets with the Batman (1989) 1/6 Scale Batmobile Collectible by Hot Toys. Available to pre-order from Sideshow.
YOU MAY ALSO LIKE:
Using 3D scans of the original cowl from the 1989 film, PureArts' Batman Cowl is a carefully crafted, ultra-realistic, life-sized prop replica. Sold alongside a miniature Gotham City mayoral house statue, with removable emblem, this is a must for any collector's Batcave!
Available to pre-order now, via Sideshow.
The artists at New Zealand Mint have recreated Batman's iconic logo on an ultra-limited edition and highly collectible 1 oz pure silver coin.
This silver collectible is actually legal tender (as confirmed by the Ian Rank-Broadley effigy of Her Majesty Queen Elizabeth II on the obverse) and is shipped nestled inside a high-quality black coin case.
The mintage has been set at just 5,000 coins worldwide. So, be sure to grab one while supplies last! Available now via Sideshow.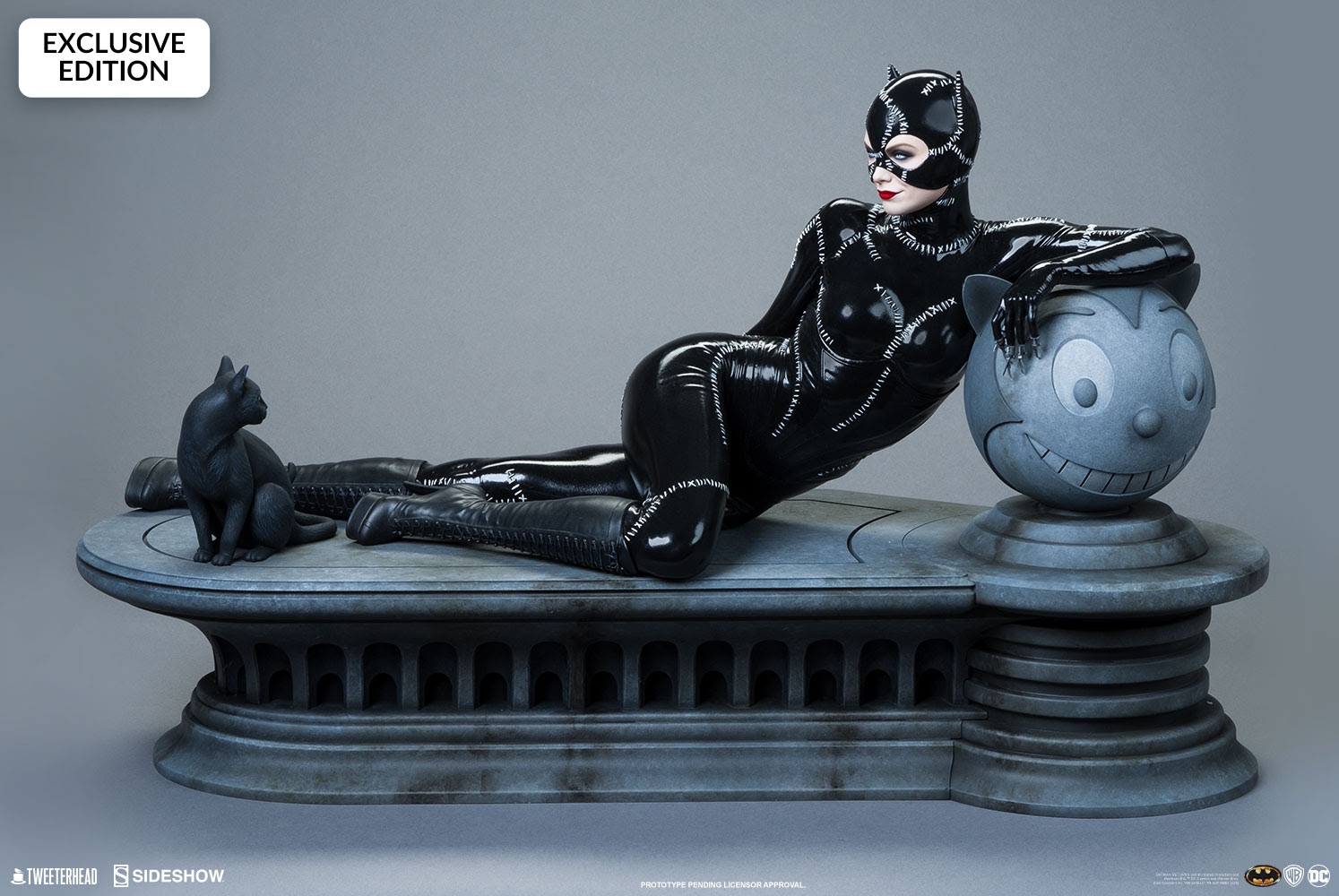 The fully sculpted 1/4 scale Catwoman Maquette by Tweeterhead is a meticulous and faithful recreation of Michelle Pfeiffer's unforgettable movie costume, detailed down to the accurate stitching and unique claw weapons on her fingertips. This Exclusive Edition also includes Miss Kitty, a black cat proximity accessory to place on the base of the statue — it's the purrr-fect gift for all Catwoman fans. Available now from Sideshow.
Tongue Lashing XL Deluxe Diamond Dust Fine Art Print by renowned pinup artist Olivia De Berardinis is a luxurious limited-edition collector's item.
Each print is embellished in a unique process utilizing silk screens and glass diamond dust, highlighting key elements on the image with a mesmerizing, sparkling effect. Hand-signed by the artist and embossed with a Seal of Authenticity, this large-scale fine art print comes in a highly limited edition of only 99 pieces worldwide! Available now from Sideshow.
SHOP MORE BATMAN COLLECTIBLES
---