If you need something extra indulgent for that special someone on your gift list this holiday season, Sideshow has you covered. Explore luxe gifting with a geeky twist in our guide below. Favorite fandoms are elevated by world-renowned designers utilizing high-quality materials to create the crème de la crème of collectibles. Many of these pieces are extremely limited-edition and may sell out quickly, so plan ahead to avoid disappointment.
Go big with the ultimate Iron Man collectible. Paying tribute to the classic Mark III armor, the museum-quality Iron Man Mark III Life-Size Figure by Sideshow stands at over 6 feet tall. The finely crafted Iron Man Mark III includes light-up features throughout, with illuminated eyes, arc reactor, palm repulsors, and base. This attention-grabbing piece will be the crown jewel in any Hall of Armor.
Time travel back to where it all began with the Marvel Comics Library. Avengers. Vol. 1. 1963-1965 (Collector's Edition). Relive the classic early adventures of Avengers #1–20 in an XXL-sized edition from the masters of exquisite books, TASCHEN. Sourced from pristine original editions, these comics have been digitally remastered and reproduced in close collaboration with Marvel and the Certified Guaranty Company. This deluxe, limited-edition volume features an aluminum print cover tipped into a leatherette-bound spine, foil embossing, and is housed in a slipcase.
Inspired by Joker (2019), the Arthur Fleck Life-Size Bust by Infinity Studio X Penguin Toys is expertly crafted in silicone for an amazingly realistic finish. This impressive bust stands at approximately 32.28 inches tall and comes with a collector certificate made of 24K gold.
Inspired by DC Comics' Batman: Endgame #1, Prime 1 Studio's Justice Buster (Ultimate Version) Statue is a reinterpretation of Batman's mechanical suit by concept artist Josh Nizzi. Designed to allow Batman to fight any member of the Justice League, this overwhelming masterpiece stands at a jaw-dropping 35 inches tall and is equipped with a comprehensive array of weaponry. The Ultimate Version also includes a full-sized Batman statue which can be displayed next to the Justice Buster suit.
The Meanwhile, at the Sweet Shoppe… XL Deluxe Diamond Dust Fine Art Print by celebrated artist Olivia De Berardinis delivers glitz and glamour with a touch of nostalgia. Created with a unique process utilizing silk screens and glass diamond dust, key elements are highlighted with a mesmerizing, sparkling effect. A sweet tribute to the '60s Batman TV series, this elegant, limited-edition piece will delight in any gallery.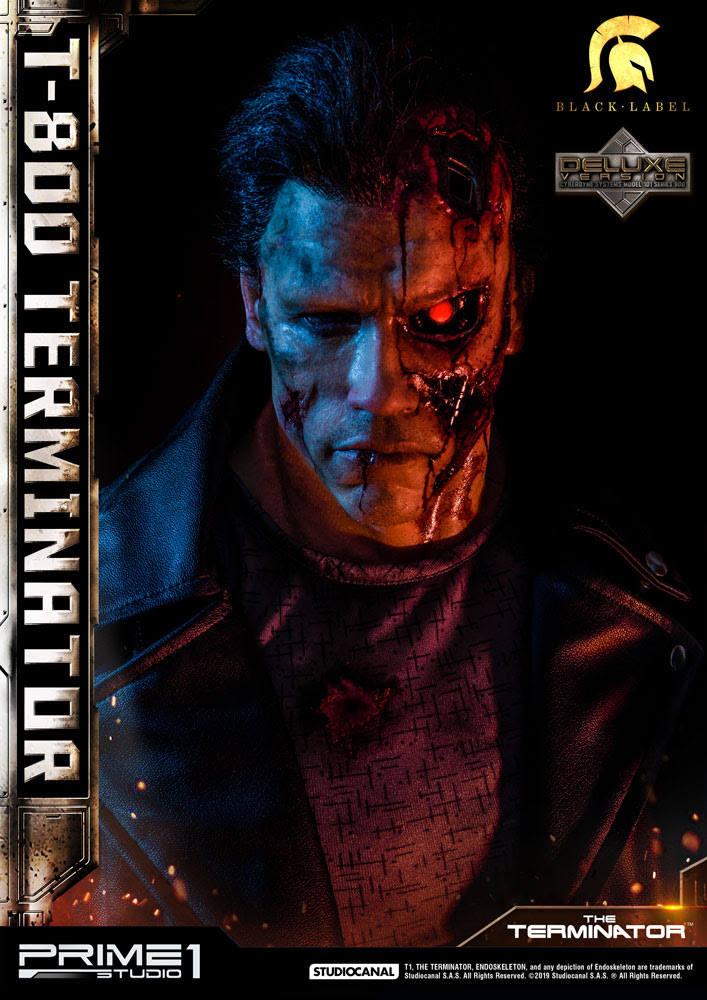 Stepping out of Prime 1 Studio's High Definition Museum Masterline Black Label Line, the 1/2 Scale T-800 Terminator Statue is ready for its mission. Inspired by The Terminator (1984), the statue features a detailed likeness of Arnold Schwarzenegger captured in premium grade silicone for a more authentic look and feel. Standing at 46 inches tall, it carries perfectly reproduced SPAS-12 and AR-18 guns, and its eyes are equipped with an LED light-up function to replicate the T-800's cybernetic look. The Deluxe Version comes with an additional swap-out portrait with a more battle-ravaged visage.
The Muse of Flesh: Atelier Cryptus is a highly poseable ball-jointed doll by the artisans at Sideshow, from its original Court of the Dead collection. Dressed in an elaborate ensemble, the Muse of Flesh wears beautiful and complex garments that represent human anatomy from the outer flesh to inner muscle and blood, evoking the true essence of the Flesh Faction: chaos, creativity, curiosity. A back-head plate, dual-jointed neck, custom eye plug-ins, and magnetic hand attachments make for an extremely customizable figure. Pledge allegiance to the Alltaker's virtuous purpose and pair this piece with the Muse of Spirit: Atelier Cryptus Doll for an exquisitely ethereal set.
The limited-edition Tusken Raider™ Life-Sized Prop Replica Bust Signature Edition by Regal Robot is a faithful recreation made from high-resolution 3D scans of the original film mask. This intricate mixed media piece includes materials such as resin, aluminum, and hand-dyed, distressed fabrics. The special signature edition also includes a plaque hand-signed by performer Alan Fernandes, an elephant trainer who portrayed a Tusken Raider in the bantha™ sequence of Star Wars Episode IV: A New Hope™.
Gift the Way of the Mandalore™ with The Mandalorian™ Prop Replica Helmet by EFX. This precision crafted piece was cast from the molds used to make the screen-used helmets, and hand-painted with weathering effects to make a screen-accurate recreation of Din Djarin's™ iconic helmet. The Mandalorian Prop Replica Helmet is the perfect gift for fans of Star Wars: The Mandalorian™.
The Stormtrooper™ Legendary Scale™ Figure from Sideshow stands at an impressive 38 inches tall. This 1/2 scale piece is a highly detailed recreation that will shine in anyStar Wars™ collection. Expertly crafted with fiberglass, resin, and fabric, this is one stormtrooper that doesn't miss!
The Rey™ Porcelain Statue is the latest addition to the Lladró Born to Rebel collection inspired by icons from the Star Wars movie saga. Imbued with symbolism, Rey holds a new lightsaber™ in her right hand with yellow light representing the future while, in her left hand, she holds Luke Skywalker's™ broken lightsaber, representing the past. Delicately sculpted by Eva Maria Cuerva utilizing a handmade process at the Lladró studio in Valencia, the Rey Statue is beautifully crafted in fine porcelain with gloss and matte details.
Can't decide? Take out the guesswork of gifting with the Sideshow Gift Card. Available as a physical or digital gift card, it's the gift everyone will love.
---